"Where'd you get the name 'Alpentile'?
…"it's an unusual name for a company in the desert."  Well, long before we knew we'd be making our livelihood in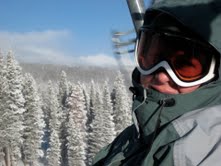 stalling glass mosaics, Luke and I both lived in Seattle and our lives revolved around snowboarding.  Our favorite spot was a little resort called 'Alpental' –  located on Denny Mountain at Snoqualmie Pass.
When it came time to pick a name for our business, we spent weeks trying to think of something meaningful, or at least cool.  We asked family and friends for help, but nothing stuck.  Then, on a sunny San Diego day at the beach with margaritas in hand (the best way to inspire creativity,) we were reminiscing about the great Northwest, how much we missed those mountains, and the good times we had at Alpental.  That's when it hit us…something meaningful and cool….and 'Alpentile' came to be.
Now, like so many others, we have relocated to Arizona because of the beautiful winters and a relaxed way of life the desert provides.  But we still hold on to our history through our name, which always takes us back in time…
In today's construction field, we know it's a treat to find individuals who are deeply engaged in their craft…We merge craftsmanship with design, giving our clients a totally unique construction experience that surpasses all  expectations.
Luke Denny: The Installer and Creative Artist
One of the premier installers of his generation,
Luke is totally engaged in the technical and aesthetic
requirements for installing glass tile and mosaics.
Having started his career in interior tile work and complex glass mosaic installations,
he brings this same attention to detail to his pool and exterior tile work. 
For the ultimate in aesthetic detail and creativity, contact Luke
at luke@alpentile.com for your next project.

Amy Denny: Tile Wrangler, Designer, Educational Speaker

Amy is called upon for her knowledge of installation 'best-practices' combined with her formal art background and product design expertise.  She delivers beautiful design work with functional detail.
She speaks to industry groups of all kinds, from design/architecture associations to builders and technical associations.
Contact her at amy@alpentile.com if you are interested in having her present at one of your events.
Our clients include architects, custom home builders, interior designers, landscape architects, luxury pool builders, and discerning homeowners, all with a unique design vision.
We deliver exceptional results because we live by the principles of creativity and craftsmanship. Our work takes us throughout the US, and our installations are in publications including This Old House, California Homes, Dwell, and Metropolis.  Many projects are featured in design catalogs and luxury tile showrooms across the country have selected images of our work for their marketing campaigns.
With over 25 combined years of design and installation experience,  we are committed to giving back to the building industry by inspiring others to reach for excellence.  Luke has been mentored by some of the tile industry's top installers, and continues to collaborate with them in a mutual effort to keep craftsmanship and technical integrity alive. We are members of Glass Tile Consultants, a panel of expert consultants who help installers working with glass tile and mosaics.
Luke holds an alternate seat on the ASC A108 committee for installation specifications for glass tile.  Amy manages the Glass Tile Group on LinkedIn, with over 800 international members, and the Glass Tempering Group, with over 1000 members.

The trademarks, logos, and service marks (collectively the "Trademarks") displayed on this Web Site are registered and unregistered trademarks of Alpentile, LLC its affiliates and others. You can view trademarks owned by Alpentile, LLC on LegalForce rademarkia at this link: http://www.trademarkia.com/company-alpentile-llc-3930571-page-1-2. Nothing contained on this Web Site should be construed as granting, by implication, estoppel, or otherwise, any license or right to use any Trademark displayed on this Web Site without the written permission of Alpentile, LLC or such third party that may own the trademark displayed on this Web Site. Your misuse of the Trademarks displayed on this Web Site, or any other content on this Web Site, except as provided herein, is strictly prohibited.